Father Frederick Crowe, S.J.
As many who use the websites www.bernardlonergan.com and www.lonerganresource.com know, Frederick Crowe died on Easter Sunday of this year. The following two paragraphs contain the obituary for Father Crowe written by Robert M. Doran, S.J., and link to the homily that Father Doran delivered at the funeral Mass on April 17 at Regis College, Toronto. The homily is accessible in pdf and mp3 format.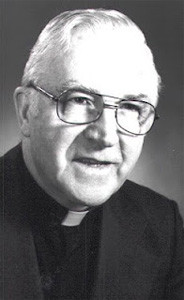 Father Frederick Crowe, S.J.Father Frederick E. Crowe died peacefully on Easter Sunday, April 8, 2012, at René Goupil House, Province Infirmary, Pickering, Ontario, in his 97th year. Fred was born on July 5, 1915, in Jeffries Corner, New Brunswick, the son of Jeremiah Crowe and Margaret (Mahoney). He attended high school in Sussex, NB, and then received a Bachelor of Science degree in Electrical Engineering from the University of New Brunswick in 1934. He entered the Guelph novitiate on September 6, 1936. He studied philosophy at the Jesuit Seminary in Toronto from 1940 to 1943, and did his regency in Halifax from 1943 to 1946. He then returned to Toronto for his theological studies at the Jesuit Seminary (1946 to 1950). He was ordained a priest in Toronto on June 27, 1949. Following his tertianship year, he did a biennium in theology at the Gregorian University in Rome from 1951 to 1953, receiving his doctorate at the end of this period. He joined the faculty of the Jesuit Seminary in 1953 and taught there and at Regis College until he retired from teaching at age 65, becoming Professor Emeritus and devoting his energies full-time to research and writing. He became the first Director of the Lonergan Research Institute in 1985, and served in that capacity until 1992. From 1992 to 2006 he continued work at the LRI as one of the General Editors of the Collected Works of Bernard Lonergan and as author of numerous writings. He lived in the Regis Jesuit Community until 2006, and specifically at Pedro Arrupe House since 1983.